3/19/20
MAX Red Line Service Alert
The Portland Airport station on MAX Red Line will be closed temporarily from Sunday, March 29 through Saturday, May 30
What's happening?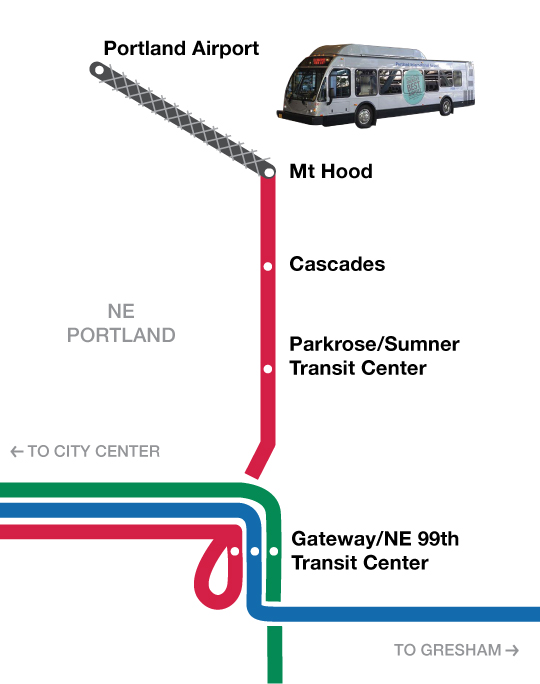 A free PDX shuttle bus will run non-stop every 5-10 minutes between the Mt. Hood and Portland Airport stations on the MAX Red Line. The bus will say "MAX Shuttle" on the electronic sign.
The bus will pick up and drop off from the same location you would normally board the MAX train at PDX. Follow the signs for "MAX Shuttle" bus.
Please plan extra time – about 10 minutes extra – when taking MAX to and from the airport.
Why is this happening?
To keep everyone safe during the new Concourse B construction at PDX.
TriMet and the Port of Portland will also take advantage of this construction opportunity to prepare for future track improvements on the MAX Red Line.
Will there be other Portland Station closure dates due to PDX Next construction?
Yes.The Portland Airport station will also be closed from August 30 – November 14, 2020.
The same shuttle bus service will run for these eleven weeks.
For more information, visit trimet.org/redline..
Portside
Our digital magazine sharing stories about our Port of Portland team, the people we serve in our region, and our connections across the globe.
Check it out!
Media Relations Team
Our Media Relations Team strives to provide what you need in a timely manner. You can reach our on-call Media Relations representative 24/7 by texting or emailing the address below. During regular business hours feel free to contact the appropriate media relations contact who can assist you with visits and any interview or information requests.
After-hours on-call Public Information Officer: media@portofportland.com
You may also be interested in