CORONAVIRUS / COVID-19:
KEEPING PDX PEOPLE HEALTHY AND INFORMED
(Last updated: March 27, 2020)

We know this is a stressful time and things are changing every day. Ensuring that every person coming to PDX – whether for work or travel – is healthy, safe and informed is our number one priority.
To that end, we compiled answers to frequently asked questions that we heard from you, and created a way to tell us about the acts of kindness you're seeing around the airport.


How does Oregon Governor Kate Brown's order impact PDX? Is it still operational?
PDX remains open and operational under the Governor's March 23 "
Stay Home, Save Lives
" order. This includes PDX concessions, which can continue to provide takeout under the Governor's order.
As you may know, our airport is operated by the Port of Portland. As a public agency, the Port must continue to support day-to-day operations and the needs of tenants and travelers. Even as travel slows, our work – and your contributions – continue to be critical to our community.
The Port's emergency operations center is closely monitoring the evolving situation. To see our airport conditions dashboard, check out pdx.com/conditions. To see the COVID-19 virus updates that we're sharing with the public, go to flypdx.com/covid-19.


What extra steps are you taking to keep employees safe?
Our top priority is your health and safety and we're leaning on the advice of our public health partners. For the latest guidance, visit the
Centers for Disease Control and Prevention
and
Oregon Health Authority websites
.
We're cleaning high-touch areas in the terminal more frequently, along with the airport's parking pay stations, shuttle buses and information booths. Our Relay Resources team deserves a huge thank you for going above and beyond with their commitment to cleanliness.
You've probably noticed an increase in hand sanitizer as well. We added dispensers in high traffic areas, including our taxi and rideshare hold lot for our ground transportation providers.
Portland Airport Fire Fighters are our medical first responders. In accordance with Multnomah County Public Health guidance, airport firefighters are required to respond to all medical calls wearing increased levels of personal protective equipment.
In consideration of both the ongoing health safety of TSA officers and our passenger volumes, all screening operations have been consolidated to the D/E checkpoint. The exit lanes on the D/E and B/C concourses will remain open and TSA has adequate staffing levels to maintain full operations.
Everyone at PDX – including travelers, employees, contractors and service providers – is instructed to follow public health guidelines which include cleaning your hands often, covering coughs and sneezes, and maintaining six feet between you and all other people.
For more information, see the Oregon Health Authority's social distancing flier in English and Spanish. More translations are available on the Oregon Health Authority's website.
I heard there are temporary changes to employee parking. What can you tell me?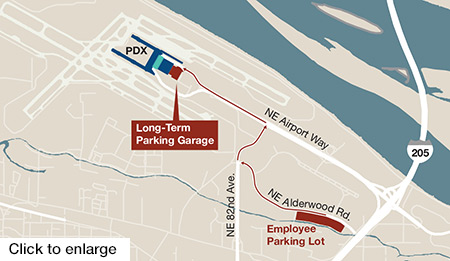 Because fewer people are traveling, we have more capacity in the PDX parking garages. This means we can make a temporary change to where you park to offer you greater convenience and accessibility at no extra cost.
All airport employees who previously parked in the Alderwood Lot should now park in the long-term parking garage. The Alderwood Lot will be closed and shuttle buses will ferry employees between the terminal and the parking lot at a lower frequency until all the cars are removed. We hope this change allows more opportunity for social distancing and makes your life a little easier in a difficult time.


What businesses are temporarily closed at PDX?

The response to coronavirus evolves daily. We plan to keep you updated as we learn what shops and businesses are closing temporarily or adjusting their hours. Here's what we know right now:
| | |
| --- | --- |
| Open | Closed Temporarily |
| Bambuza | Beaches |
| Bangkok Xpress | Blue Star Donuts |
| Beach Shack | Burgerville |
| Cafe Yumm! | ccMcKenzie |
| Capers Cafe | Columbia |
| Capers Farm to Table Market | Country Cat |
| Elephants | Deschutes Brewery |
| Food Cart - Maruti | Dragontree Spa |
| Food Cart - Mike's Backyard BBQ | Hopworks Urban Brewery |
| Food Cart - Sumo Sushi | Jackson Shine Co. |
| Henry's Tavern | Johnston & Murphy |
| Hissho Sushi | Kenny & Zukes |
| Made in Oregon | Kiehl's |
| McDonald's | Metalsmiths |
| Mod Pizza | Mo's Seafood |
| Oregonian News | Nike |
| Panda Express | Peet's Coffee |
| Portland Roasting | Pendleton |
| Potbelly Sandwiches | Powell's Books |
| Rich's News | Providence |
| Soundbalance | Real Mother Goose |
| Stumptown | Starbucks |
| The Market | Tamale Boy |
| Travelex | Tender Loving Empire |
| Your Northwest Travel Mart | The Barbers |
| | Timberline Lodge |
| | Vino Volo |
| | Westward Whiskey |
Additionally, the USO announced a temporary closure of their facilities across the nation, including the location at PDX. The Customs and Border Protection Trusted Traveler Enrollment Center at PDX has suspended operations until at least May 1, 2020. The children's play areas at the airport are closed. The airport's Gold Key Valet has suspended service and the Red Economy Lot is closed, though the Blue Economy Lot and short-term and long-term parking garages remain open.
While the PDX Conference Center is closed, the Sandy and Vancouver conference rooms on the mezzanine level are available to PDX tenants and Port staff on a first come, first served basis. If you would like to reserve these rooms, contact pdxconferencecenter@portofportland.com.
The Lost & Found office at PDX remains open, however while staff are logging and returning items, they are no longer taking calls. People inquiring about items lost or found at PDX should email pdxlostandfound@portofportland.com.
If you work at a concession that has closed, there may be resources available. Learn more about business layoffs, closures and unemployment insurance benefits from the State of Oregon's Employment Department or see Multnomah County's temporary eviction moratorium.


My PDX badge expires soon. Are there any Badging Office changes I should know about?
PDX employees whose badge expires at the end of the month should call the Badging Office at 503.460.4500 or 800.547.8411 ext. 4500 to schedule a training appointment and have their badge renewed. Office hours remain unchanged – open from 8 a.m. to 4 p.m. – but they are offering fewer computer-based training sessions in order to maintain social distancing.


Have any restaurants made changes to their operations?

Governor Kate Brown's order
restricting food and beverage operations does impact the sit-down restaurants at PDX. Our counter-service restaurants, grab-and-go services and coffee stands are considered takeout and are operating as such.
We also updated the seating arrangement in the food courts and public areas of Concourses C and D to promote social distancing, following recommended public health guidelines. Some concessions may also limit their operating hours or make modifications to their menus.
Is AtYourGate food delivery still operating at PDX?
Yes, AtYourGate is up and running and ready to deliver your meal from select PDX concessionaires. Using AtYourGate delivery also helps to ensure that, rather than spend time in line or in the food court areas, everyone maintains their social distancing. Be sure to add the coupon for 10% off for PDX employees.
Download the At Your Gate app
.

What flights have been canceled temporarily at PDX?
Airlines continue to make updates to their schedules. While these change day-to-day, here are some we've confirmed with airline partners.
Delta Air Lines announced they will be temporarily suspending their flight between Portland and Amsterdam, and from PDX to Tokyo.
Due to the restrictions at the U.S./Canadian border, WestJet is suspending flights from PDX for 30 days beginning March 22. Similarly, Air Canada is suspending flights from PDX between March 23 to April 30.
Due to the State of Hawaii's quarantine order effective March 26, Hawaiian Airlines is suspending service between the islands and the mainland.
All the PDX airline lounges will be closed starting Sunday, March 29.


Unrelated to coronavirus, are there any other operational changes at the airport that I should be aware of?
Yes, the
Portland Airport station on the MAX Red Line is closing
from March 29 to May 30 during PDX Next construction. During this time, there will be a free PDX shuttle bus running continuously between the Mt. Hood and Portland Airport stations. Please plan to leave about 10 extra minutes for your commute.
What tips do you have for staying safe and calm?

I spotted a PDX employee going above and beyond. How can I get them some special attention?

We love hearing and sharing stories about incredible PDX People, especially during such challenging times. If you know someone who has gone above and beyond, tell us about it by
filling out our submission form
. We may also follow up to request a photo of the person you want to highlight. Another option is to send them a shoutout on social by tagging your post with #PDXPeople. We'll pick a few of the stories to share with our followers and on our PDX employee website (coming soon!).
Have a question or suggestion for keeping PDX People healthy and informed?
Fill out our form
and we'll do our best to add to the answers shared here. We'll also share all suggestions with our PDX communications and operations teams.
Any resources you can share for my team's breakroom?
Yes. Here's an
image
and
slideshow
for digital signage, and a
PDF
for printing and posting on bulletin boards. Need a different format? Use
this form
to tell us.