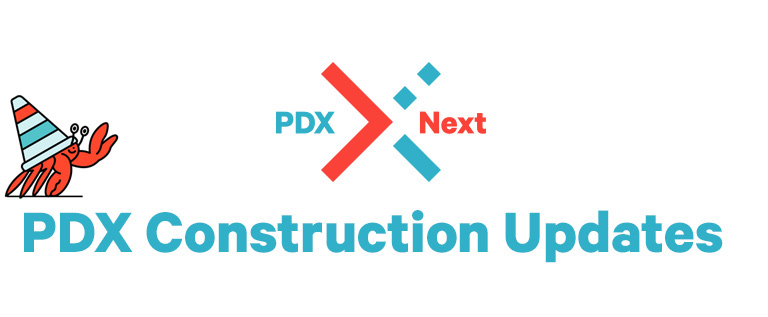 Hello there. We're glad you're here. If you haven't flown in a while, you'll notice that PDX looks a little different — that's because parts of the airport are under construction.
Here is what you need to know:
Arrive a little early.

The airport is busy again. Give yourself extra time to get to your gate. (We recommend 2 hours for domestic flights and 3 hours for international flights, but travelers should also check in with their airlines.)

Don't go through security twice.

Make sure you follow signs to the security checkpoint matching your boarding pass. There are no shortcuts between concourses beyond security anymore.
---
A few more helpful tips
Follow the overhead wayfinding signs. There are some new routes at PDX. For example, a new bypass hallway to Concourse D adds 3 to 5 minutes of walk time to safely move you around construction -- and keep you connected to your favorite shops and restaurants. Follow the overhead signs to your gate.
Expect to see: a lot of construction workers hard at work. The ceiling is gone in the ticket lobby and we just installed some scaffolding to keep you safe as we work.
It may also be loud at times. Earplugs are available. You can find them right before each security checkpoint. You may also feel some vibrations as we start to bring the new main terminal designs to life.
Why is this all happening? If you haven't seen the latest renderings – and what we can all look forward to at the end of 2023 — check out this story.
---
Construction Map

Here's a map that highlights some of the changes in the ticket lobby and as you go through security. There is no shortcut between concourses post-security anymore, so be sure to check your boarding pass and follow signs for the right security checkpoint.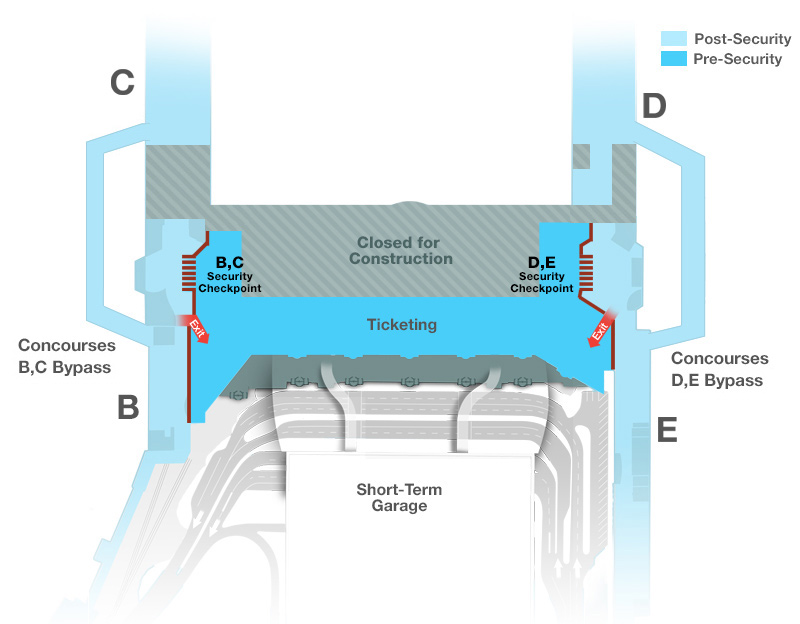 ---
Answering your questions

If your question isn't answered below, please call or text our
customer service team
for more details: 503.460.4234.
General Construction
Yes, be prepared to hear construction workers demolishing the old Clocktower Plaza to make room to bring the new airport designs to life. While noise levels will always remain within a safe range, we know it won't be easy to deal with the noise. We recommend planning ahead and bringing along earplugs or headphones. We also have earplugs available at each security checkpoint.
We have two new indoor pet relief areas at PDX: one on Concourse C near gate C4 and one on Concourse D near gate D4. We also have two new outdoor pet relief areas located at the north and south ends of the lower roadway (arrivals level).  
PRE-SECURITY CHANGES
We've started construction to bring the new airport designs to life, including building a bigger, brighter and even more neighborhood-y shopping scene at PDX. 
Yes! When the new main terminal is unveiled in late 2023, there will still be places to eat and shop pre-security, including a new mezzanine restaurant and bar with great views of the airfield.
While we won't know everything until late 2023, we will have some exciting news to share sooner, so visit PDXnext.com and follow our social channels to learn what's new and next for PDX. [Hint: something sweet is reopening as a pop-up shop during construction]. 
P.S. Did you hear that Evergreens and Tender Loving Empire (PDX location #2) have opened in the new Concourse E extension?

Yes, Portland Coffee Roasters will be open throughout construction (yay!) near the D/E security checkpoint. Additionally, the new Elephants location in the ticket lobby serves Stumptown coffee. Peet's Coffee will also be reopening in baggage claim. We'll let you know their opening date soon! 
Concourse Connector
To make room for the new main terminal footprint at PDX. Construction crews have started expanding the airport 150 feet to the west to bring the new main terminal design to life.
Yes. Both the B/C and D/E checkpoints are operating 24 hours a day and 7 days a week at PDX.
Yes. A new concourse connector will open at PDX in late 2023 when the new main terminal construction is complete.
The pathway that connects the B/C and D/E gates is closed until late 2023 due to construction. This means you will need to pass through security again to walk between the north and south sides of the airport for connecting flights.
Departing on a flight at PDX?
Check your boarding pass and use the security checkpoint that corresponds with your gate location. If you are flying out of the B and C gates, you need to use the B/C checkpoint. If you are flying out of the D and E gates, you need to use the D/E checkpoint.
Arriving on an international flight (Concourse D) and making a domestic connection on the B or C gates?
If you are connecting to a flight on the B or C gates, and the TSA screening checkpoint in the Federal Inspection Station is not open, you will need to ride the "International Arrivals" shuttle bus to baggage claim. From there, proceed upstairs to the B/C security checkpoint to be re-screened. Please note: you will not be able to take any liquids, including Duty Free items like alcohol and perfume, with you when you pass through the security checkpoint again.
Arriving on an international flight (Concourse D) and making a domestic connection on the D or E gates?
If you are a passenger arriving on an international flight and making a connection on the D or E gates, please check with an airline representative when you arrive at PDX for instructions. You may or may not have to ride the shuttle bus to the terminal to be re-screened (this is dependent on whether or not the checkpoint screening area is open on Concourse D near the Federal Inspection Station).
Arriving on a domestic flight (Concourse B or C) and making an international connection on Concourse D?
Follow the airport Exit signs and then re-enter the terminal through the D/E security checkpoint at PDX. Please note you will not be able to take any liquids with you when you pass through security again.

Yes. All connecting passengers at PDX may use the Express Lane. If you are approved for TSA PreCheck, you may use that lane at PDX as well.
Some of our shops and restaurants use AtYourGate, a delivery service at PDX. Learn more at https://atyourgate.com.
No. Your airline baggage handlers will transfer your luggage to your connecting flight as usual.
The brown chairs will be relocated to one or both of the new passenger pathways that we're building this spring to get you around the construction at PDX. More information on these bypasses will be available soon.
No, sorry. Construction on the new main terminal at PDX will block this view from the pre-security food court. However, when the new passenger pathways are constructed this spring, good views of airplanes will be visible (and you can even sit in the comfy brown chairs)!