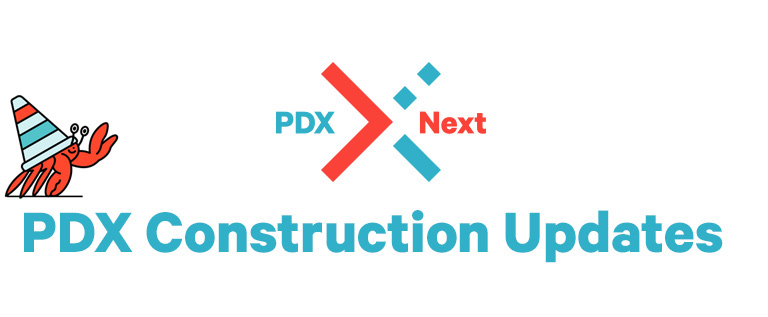 Hello there. We're glad you're here. If you haven't flown in a while, you'll notice that PDX looks a little different — that's because parts of the airport are under construction.
Here is what you need to know:
Construction may be loud at PDX.

Find earplugs in the ticket lobby, just before TSA security checkpoints. Travelers with different sensory needs can stop by the Travel Oregon Welcome Center in baggage claim for a free sensory kit.

Don't go through security twice.

Make sure you follow signs to the security checkpoint matching your boarding pass. There are no shortcuts between concourses beyond security anymore.

Baggage claim may be crowded.

If you arrive at PDX between 8pm - midnight, baggage claim may be more crowded than usual as we install PDX's new roof.
---
A few more helpful tips
Arrive a little early. Give yourself extra time to get to your gate. (We recommend 2 hours for domestic flights and 3 hours for international flights, but travelers should also check in with their airlines.)
Follow the overhead wayfinding signs. There are new routes to Concourse C and Concourse D to move you safely around the main terminal construction -- and keep you connected to your favorite shops and restaurants. Follow the overhead signs to your gate.

Expect to see: a lot of construction workers hard at work. The ceiling is gone in the ticket lobby and we just installed some scaffolding to keep you safe as we work.
Why is this all happening? If you haven't seen the new airport designs – and what we can all look forward to in Spring 2024 — check out this story.
---
Construction Map

Here's a map that highlights some of the changes in the ticket lobby and as you go through security. There is no shortcut between concourses post-security anymore, so be sure to check your boarding pass and follow signs for the right security checkpoint.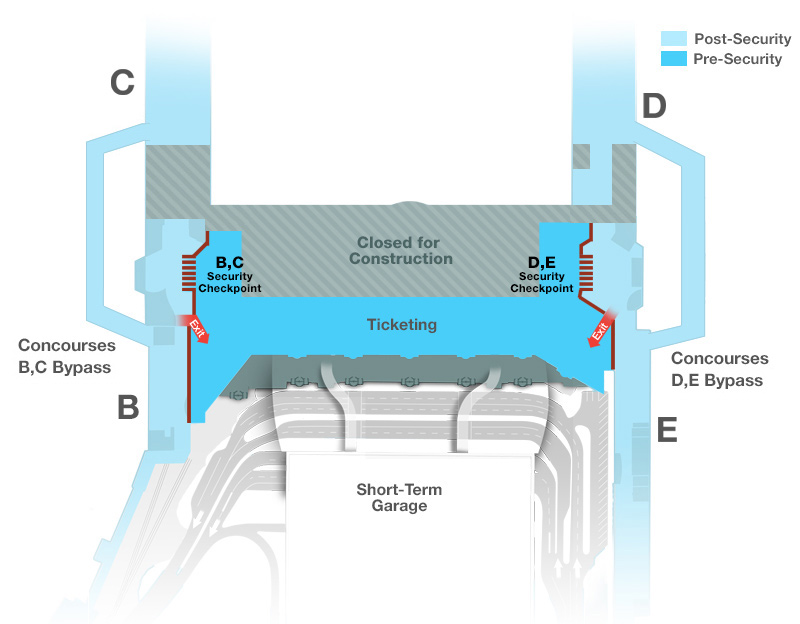 ---
Answering your questions

If your question isn't answered below, please call or text our
customer service team
for more details: 503.460.4234.
General Construction
Yes, be prepared to hear construction workers demolishing the old Clocktower Plaza to make room to bring the new airport designs to life. While noise levels will always remain within a safe range, we know it won't be easy to deal with the noise. We recommend planning ahead and bringing along earplugs or headphones. We also have earplugs available at each security checkpoint.
We have two new indoor pet relief areas at PDX: one on Concourse C near gate C4 and one on Concourse D near gate D4. We also have two new outdoor pet relief areas located at the north and south ends of the lower roadway (arrivals level).  
PRE-SECURITY CHANGES
Yes. When our new main terminal opens in spring 2024, there will still be places to eat and shop pre-security, including a new mezzanine restaurant and bar with great views of the airfield.
Yes, Portland Coffee Roasters will be open throughout construction near the D/E security checkpoint. Additionally, the new Elephants location in the ticket lobby and baggage claim serves Stumptown coffee. 
Concourse Connector
To make room for the new main terminal footprint at PDX. Construction crews have started expanding the airport 150 feet to the west to bring the new main terminal design to life.
Yes. Both the B/C and D/E checkpoints are operating 24 hours a day and 7 days a week at PDX.
Yes. A new concourse connector will open at PDX in spring 2024 when the new main terminal construction is complete.
Yes. All connecting passengers at PDX may use the Express Lane. If you are approved for TSA PreCheck, you may use that lane at PDX as well.
Some of our shops and restaurants use AtYourGate, a delivery service at PDX. Learn more at https://atyourgate.com.