Parking Options
For Assistance: Call 503.460.4234 - Available daily from 7:30 a.m. - 9 p.m.
Payment Methods: PDX accepts cash, debit cards, American Express, Discover, MasterCard and Visa.
Skybridges on level 4 and tunnels connect the garage to the terminal.
Free jump starts & flat tire assistance
Shortest walk to terminal
Handicap Accessible
3,300 public parking spaces
Garage Clearance - 8 feet high
24 Electric vehicle charging stations: 10 on level 4, and 14 on level 3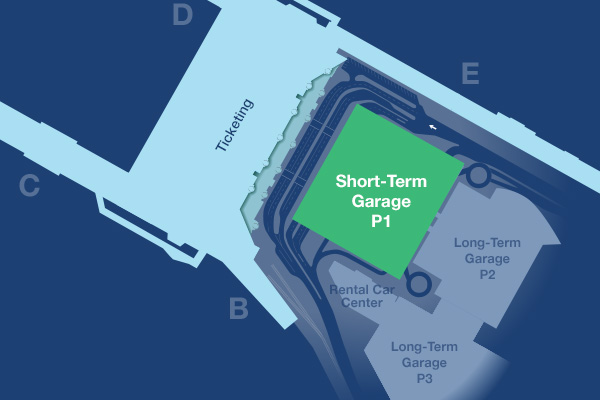 Convenient walk to the terminal through the North and South tunnels.
Free jump starts & flat tire assistance
Short walk to terminal
Handicap Accessible
4,400 public parking spaces
Garage Clearence - 8 feet high
10 Electric vehicle charging stations on level 2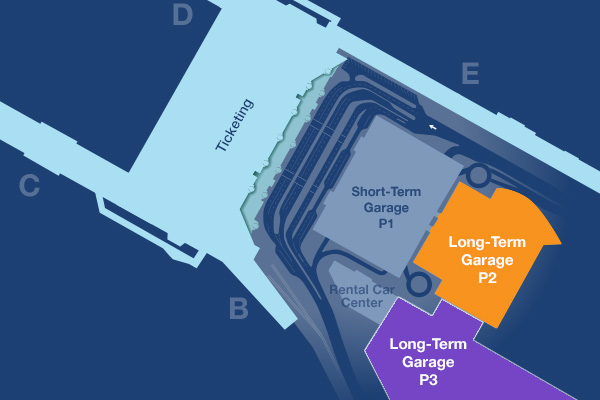 Free parking shuttles run regularly to the main terminal every 7-9 minutes from 4:00 a.m. - midnight, and every 15 minutes from midnight to 4:00 a.m.
Free jump starts & flat tire assistance
Handicap Accessible
7,900 public parking spaces
Located near I-205 off of Airport Way
Free shuttle to terminal (takes about 7-9 minutes)
7th day free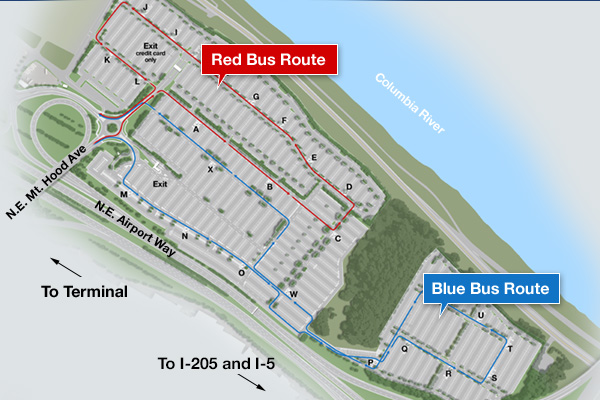 Always open, never full. The quickest, most convenient way to park at PDX.
Easy Drop-off next to ticket counter
Your car will be waiting when you return to PDX
Electric Vehicle Charging stations
Check-In Now! Use our convenient Check-In Form to let our staff know when you'll be arriving so you can be on your way even faster.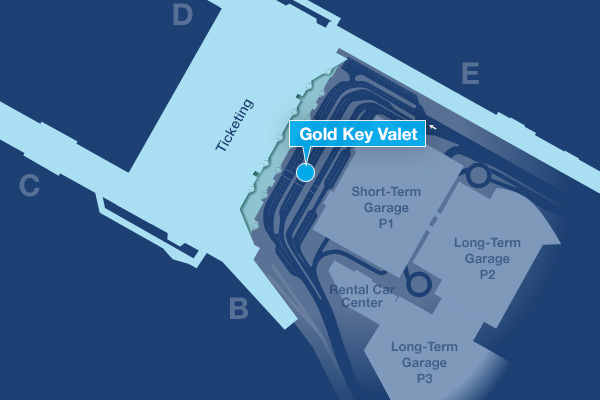 Other Services
Bicycle & Motorcycle Parking - Free
Free motorcycle parking is available at the north end under the upper roadway and south end of the Commercial Roadway. Parking is well marked. Follow signage on Airport Way to the free motorcycle parking area. Motorcycle parking is not available in any of the parking garages or in the Economy or PDX employee lots.
Free bicycle parking is available at the north and south end of the roadway closest to the terminal building. Bicycles can be locked up in one of two ribbon racks located at the north end of the terminal building on the lower level and the south end of the terminal building near the TriMet MAX Light Rail platform on the lower level. Additional bicycle parking is also available at the north end of the terminal building on the upper level. For more information, including links to trails and a map with locations, see Bicycle Resources.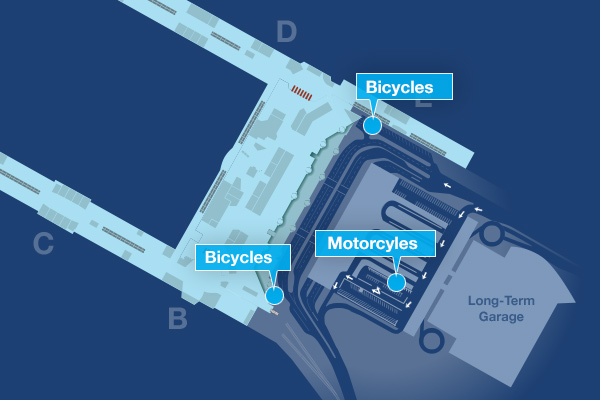 Oversized Vehicles
Please call 503.460.4848 to determine the best parking accommodation for your oversized vehicle.
Cell Phone Waiting Area
The cell phone lot is located off of N.E. Airport Way and N.E. 82nd Avenue. As you approach the airport, signs will guide motorists to the waiting area. Access to the airport is a short 3 minute drive to the terminal.
The waiting area - with capacity for up to 30 vehicles - provides a place where motorists can park for free for a maximum of 30 minutes, wait for a cell phone call from family or friends announcing their arrival, and then drive up to the airport terminal's curbside passenger pick-up area.
Motorists must stay with their vehicles at all times.
Disabled Parking
Marked disabled parking spaces are located on each floor of the parking garage near the elevators. Disabled parking spaces are located next to the bus shelters in both the red and blue economy lots.
Disabled parking is offered at a discounted daily maximum parking rate of $12 per day for vehicles displaying a valid state-issued disabled permit, placard or license plate. The disabled parking rate is available in the short-term garage, long-term garage or economy lot.
Disabled Veteran Parking
Disabled veterans of the United States Armed Forces can park without charge in the Economy Lot for up to a maximum of fourteen (14) consecutive days, upon meeting the requirements below. The established parking fee for the Economy Lot will be applied for any stay beyond the fourteen (14) days.
To receive the validated parking, a disabled veteran must present, at the time of exiting the Economy Lot, their valid, state issued driver's license and vehicle registration in addition to one of the five approved credentials that reflect that the disability was service-related or service-connected:
A valid, state issued, Disabled Veterans license plate;
A valid Veteran Health Identification Card with the designation 'service-connected' on the Card identifying a service-connected disability
A Form DD214 showing release from duty due to a disability;
Military ID (DD Form 2765/1173) with a "DAVPRM" or "DAVTMP" code on the form; or
Department of Veterans Affairs Benefits Summary Letter summarizing current benefits received from the VA for service-related disability. Please note, all other forms of military or veteran status, such as a Veteran Health Identification Card, that do not have 'service-connected' printed on the card, are not accepted to receive the validated parking.
To receive the disabled parking discount, the cashier will require the appropriate disabled parking credential upon processing your payment. Payment needs to be made at one of the open cashier booths at the exit plaza. Disabled parking discounts will not be processed at the automated Quick Pay machines in the garage.
Electric Vehicles
Electric vehicle charging stations are available in the short-term parking garage and the economy parking lot. There are no time restrictions, so you may utilize the charging stations for as long as you wish. Aside from the regular parking fee, there is no additional cost.
Six Level 2 (240 volt) charging stations are located on the fourth floor of the short-term garage near the south skybridge that connects to the airport terminal building. Look for signage along Airport Way and in the garage to direct you to their location.
Another 24 Level 1 charging stations are located in the economy parking lot.
For additional parking information, please call 1.877.PDX.INFO.

Extended Stay
Please make prior arrangements with the parking office if your vehicle will be parked for more than 30 days, or more than seven (7) days for motorcycle parking. Without advance consent of the parking office, your vehicle is subject to towing at your expense. Call 503.460.4848