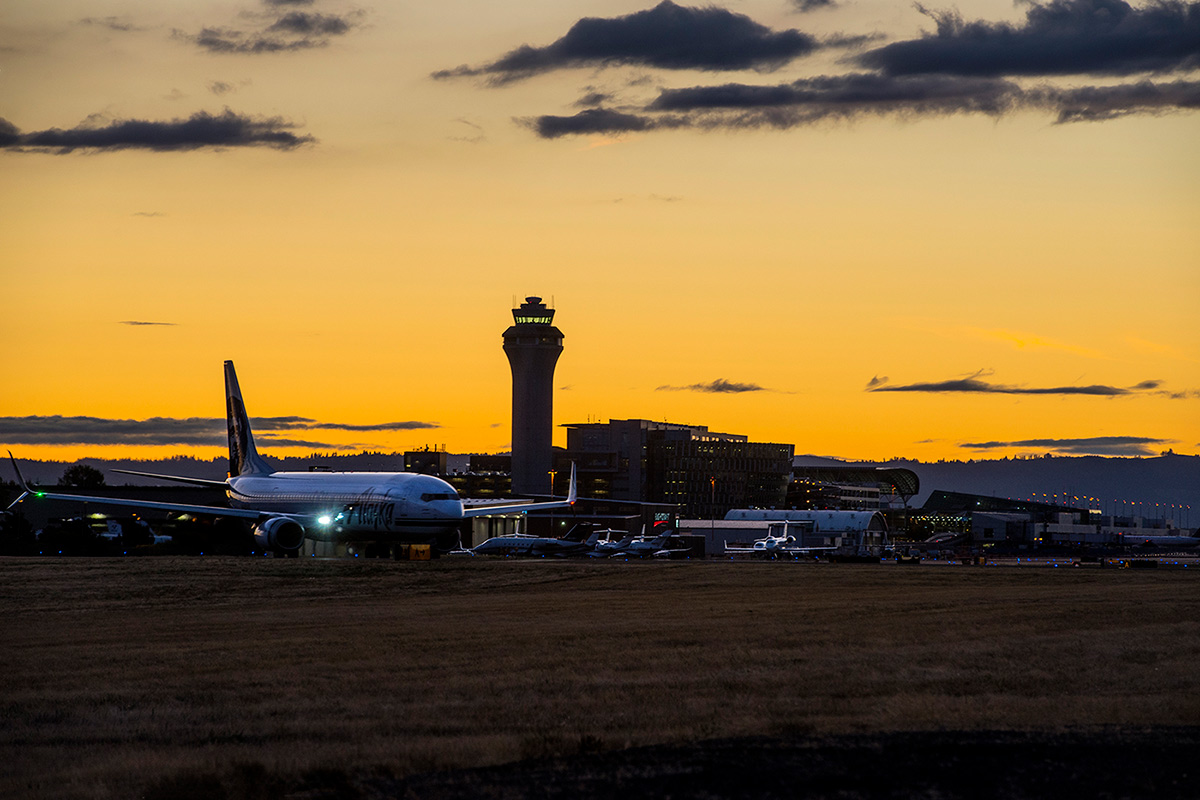 The Port of Portland is in active partnership with public health partners to respond to the outbreak of Novel Coronavirus (COVID-19). The first case of COVID-19 appeared in Oregon on Friday, Feb. 28. The spread of COVID-19 continues to evolve daily.
The health and safety of travelers, employees and community members who use Port facilities is our top priority. Below is information about how the Port is working to keep our community safe, and some of the impacts we are seeing at PDX. (For Marine updates, head to the Port website.)
Follow us on social media for real-time updates we are seeing or hearing from partners: Twitter | Facebook | Instagram
PUBLIC HEALTH RESOURCES
Information about COVID-19 is updated frequently. Please check the following federal and local resources for the most up-to-date information:
---
PORTLAND INTERNATIONAL AIRPORT (PDX)

At PDX, we are working closely with our local, state and federal partners to help manage and mitigate the spread of COVID-19. The airport remains open and operational.
Flight Updates:
Travel Information: The decision to travel is up to you. If you need to fly, CDC has some travel recommendations. Be sure to check with your airline to confirm your flight details before heading to PDX.
Flight Reservations: Your airline is the best resource for questions about your flight reservation. You can find airline contact information on our website. We understand there are long hold times on the phone to speak with a representative. Many airlines are allowing travelers to submit changes online.
Canada Travel: Following new restrictions to travel at the U.S./Canada border, WestJet and Air Canada are making some schedule changes for flights to PDX. Head to their websites for the most up-to-date information.
Hawaii Travel: Due to the State of Hawaii's quarantine order effective March 26, Hawaiian Airlines is suspending service between the islands and the mainland. The last flight from PDX to Maui will be March 25 and the last flight to Honolulu will be March 26.
Airline Lounges: All PDX airline lounges will be closed starting Sunday, March 29.
Airport Operations:

Airport Shops and Restaurants:
Gov. Kate Brown's announcement restricting food and beverage operations in Oregon impacts the sit-down restaurants at PDX. Airport counter-service restaurants, grab-and-go services and coffee stands are considered takeout.

The Governor's Stay Home, Save Lives order does allow for us to continue to operate PDX as critical infrastructure for the region. This includes PDX concessions, which can continue to provide takeout.
Many shops and restaurants remain open at PDX. Please see the full list below.

PDX Restaurants and Shops: Availability
While this list is updated daily, restaurants and shops may make further adjustments as needed.
| | |
| --- | --- |
| Open | Closed Temporarily |
| Bambuza | Beaches |
| Bangkok Xpress | Blue Star Donuts |
| Beach Shack | Burgerville |
| Cafe Yumm! | ccMcKenzie |
| Capers Cafe | Columbia |
| Capers Farm to Table Market | Country Cat |
| Elephants | Deschutes Brewery |
| Food Cart - Maruti | Dragontree Spa |
| Food Cart - Mike's Backyard BBQ | Hopworks Urban Brewery |
| Food Cart - Sumo Sushi | Jackson Shine Co. |
| Henry's Tavern | Johnston & Murphy |
| Hissho Sushi | Kenny & Zukes |
| Made in Oregon | Kiehl's |
| McDonald's | Metalsmiths |
| Mod Pizza | Mo's Seafood |
| Oregonian News | Nike |
| Panda Express | Peet's Coffee |
| Portland Roasting | Pendleton |
| Potbelly Sandwiches | Powell's Books |
| Rich's News | Providence |
| Soundbalance | Real Mother Goose |
| Stumptown | Starbucks |
| The Market | Tamale Boy |
| Travelex | Tender Loving Empire |
| Your Northwest Travel Mart | The Barbers |
| | Timberline Lodge |
| | Vino Volo |
| | Westward Whiskey |
Health and Safety:
On March 1, we began enhanced cleaning efforts at high-touch areas in the airport terminal.
We updated the seating arrangement in the food courts and public areas of Concourses C and D to promote social distancing, following recommended public health guidelines.

All contractors who are continuing construction at PDX have been instructed to follow public health social distancing guidelines.
The Port has increased cleaning of the airport's parking pay stations, shuttle buses, valet booth and information booths.
We are providing hand sanitizer in the taxi and rideshare hold lot for our ground transportation providers. We relocated our existing hand sanitizer stations to high-traffic areas throughout the terminal.

Many airport tenants have also increased surface cleaning of their space and provided hand sanitizer for their staff and their customers, in addition to encouraging best practices consistent with public health guidelines.
Portland Airport Fire Fighters are the medical first responders at PDX. In accordance with Multnomah County Public Health guidance, airport firefighters are required to respond to all medical calls wearing increased levels of personal protective equipment.