CORONAVIRUS / COVID-19:
KEEPING PDX PEOPLE HEALTHY AND INFORMED
(Last updated: Feb. 5, 2021 - changes highlighted below)

We know this is a stressful time and things are changing every day. Ensuring that every person coming to PDX – whether for work or travel – is healthy, safe and informed is our number one priority.
To that end, we compiled answers to frequently asked questions that we heard from you, and created a way to tell us about the acts of kindness you're seeing around the airport.
---
How does the Centers for Disease Control's Feb. 1 order impact PDX?
Face coverings are required at PDX, except for children under the age of 2 and people with medical conditions that prevent them from wearing a face covering. Face coverings should cover your nose and mouth. Don't worry, we can still see you smile underneath the mask!
The
Feb. 1 CDC order
also requires masks at all U.S. airports and other forms of public transportation. As a result of this order, refusal to wear a mask violates federal law and may result in penalties.
Scroll down for more information about wearing a face covering while working.
How does Oregon Governor Kate Brown's Nov. 13 travel advisory impact PDX?
On Nov. 13, Oregon Gov. Kate Brown – along with the governors of Washington and California – announced a new travel advisory. The advisory recommended that anyone arriving in Oregon from other states or countries, including returning Oregon residents, should self-quarantine for 14 days after arrival. This recommendation does not apply to individuals who cross state or country borders for essential travel, such as work.
What about airport employees who live in Washington state?
Any essential workers are exempt from this rule. If you need to travel to PDX for work, that is allowed.
What's considered essential travel?
According to the travel advisory, "Essential travel" includes work and study, critical infrastructure support, economic services and supply chains, health, immediate medical care, and safety and security. "Non-essential travel" includes travel that is considered tourism or recreational in nature.
Do travelers flying into PDX need to quarantine?
The travel advisory recommends that they self-quarantine for 14 days.
As you may know, our airport is operated by the Port of Portland. As a public agency, the Port must continue to support day-to-day operations and the needs of tenants and travelers. Even when travel slows, our work – and your contributions – continue to be critical to our community.
What extra steps are you taking to keep employees safe?
Our top priority is your health and safety and we're leaning on the advice of our public health partners. For the latest guidance, visit the
Centers for Disease Control and Prevention
and
Oregon Health Authority websites
.
We're cleaning high-touch areas in the terminal more frequently, along with the airport's parking pay stations, shuttle buses and information booths. Our Relay Resources team deserves a huge thank you for going above and beyond with their commitment to cleanliness.
You've probably noticed an increase in hand sanitizer as well. We added dispensers in high traffic areas, including our taxi and rideshare hold lot for our ground transportation providers.
Portland Airport Fire Fighters are our medical first responders. In accordance with Multnomah County Public Health guidance, airport firefighters are required to respond to all medical calls wearing increased levels of personal protective equipment. Additionally, when fire department staff respond to medical calls, they will be placing masks on all patients, symptomatic or not. This is per the guidance of the Multnomah County Medical Director.
Everyone at PDX – including travelers, employees, contractors and service providers – is instructed to follow public health guidelines which include wearing a face covering, cleaning your hands often and maintaining six feet between you and all other people.

For more information, see the Oregon Health Authority's physical distancing flier in English and Spanish. More translations are available on the Oregon Health Authority's website.
Am I required to wear a face covering while working at PDX?
Per the Feb. 1 CDC order, face coverings are required for everyone at the airport, to protect both travelers and airport employees, and to provide a consistent experience for passengers flying in and out of PDX.
Children under the age of 2 and people with medical conditions that prevent wearing a face covering are exempt from this new rule.
Read the press release.
Face coverings are not a replacement for other efforts to help contain the spread of COVID-19. Please continue to maintain physical distancing, refrain from touching your face and wash your hands frequently.
The new face covering rule will remain in effect for the duration of the relevant directives from the State and County, including the guidance found in Governor Kate Brown's May 7 "
Reopening Oregon: Details on Restarting Public Life and Business
."
Do I have to wear a mask or face covering the entire time I'm at PDX?
Yes.
As written, the rule includes use of a face covering anywhere on airport grounds – both inside and outside.
Taking off the face covering is permitted if needed for security/identity purposes or when allowed by state/local policy (for example, when dining).
We know our region comes together to care for one and other and we are asking everyone to wear face coverings to help prevent the spread of COVID-19. We expect that everyone at PDX will wear face coverings to show kindness and be considerate of their fellow airport employees and travelers.
What resources are available if I'm working and get sick or need help with childcare?
Federal Emergency Paid Sick Leave:
The federal Families First Coronavirus Response Act provides for up to two weeks of fully-paid emergency sick leave to self-quarantine, seek a diagnosis, or receive treatment for COVID-19. Two weeks of paid emergency sick leave, at two-thirds pay, is available to employees caring for a family member due to COVID-19. Eligible employees are those at companies with fewer than 500 employees, local, state, and federal government employees, and employees who work under a multiemployer collective agreement. Talk to your manager to learn if your company meets these requirements. You can also review the
Families First Coronavirus Response Act FAQ.
Federal Paid Family Leave:
The federal Families First Coronavirus Response Act also provides for 12 weeks of job-protected leave for employees to take care of a minor child in the event of the closure of the child's school or place of childcare. The 12 weeks of job-protected leave include two weeks of unpaid leave, followed by 10 weeks of paid leave at two-thirds the employee's usual pay. Employees can overlap the first two unpaid weeks with two weeks of emergency paid sick leave. Eligible employees are those at companies with fewer than 500 employees, local, state, and government employees, and employees who work under a multiemployer collective agreement. Talk to your manager to learn if your company meets these requirements. You can also review the
Families First Coronavirus Response Act FAQ.
Oregon COVID-19 Paid Leave:
A program is available to help people who work in Oregon and need to quarantine or isolate due to COVID-19 exposure, but do not have access to COVID-19-related paid sick leave. People who qualify will receive a $120 per-day payment for up to 10 working days ($1,200 total) for the time they are required to quarantine. Employees can
apply online now
. Those who do not have access to electronic applications can call 833.685.0850 (toll-free) or 503.947.0130. To see if you meet the eligibility requirements,
take this eligibility quiz
or see the
requirements on the DCBS site
. Because the available funds are limited, the program is available only to quarantine periods that were in place on or after Sept. 16.
Oregon Free Behavioral Health Helpline: The Oregon Health Authority recently launched a behavioral health outreach and education effort and new helpline for Oregonians. The Safe + Strong Helpline can be accessed by calling 800-923-4357 (800-923-HELP) and offers free, 24-7 emotional support and resource referral to anyone who needs it. Callers are routed to a counselor who can provide emotional support, mental health triage, drug and alcohol counseling, crisis counseling or just connection.


Emergency Childcare: Essential workers can receive a customized referral to emergency childcare programs. Hours: Monday – Friday: 7 a.m. to 11 p.m.; Saturday – Sunday: 8 a.m. to 8 p.m.
Call 211. Listen to the prompt for Child Care and press the specified number.
Text the keyword "children" or "niños" to 898211 (TXT211).
Email children@211info.org.
My PDX employer is currently closed. Are there any resources available?
The U.S. Department of Labor also offers
rapid response services for workers
. The Rapid Response team will provide you with information on the means to maintain an income (unemployment insurance), information on health insurance options, access to skills upgrading and training resources, and much more. Services and resources vary by state and by specific layoff situation, but local services that may be available to you include use of computers, telephones, and fax machines for your job search; financial planning and stress management workshops; financial support for training; and special services for veterans and adults with disabilities. All services are offered at no cost to you.
I heard there are temporary changes to employee parking. What can you tell me?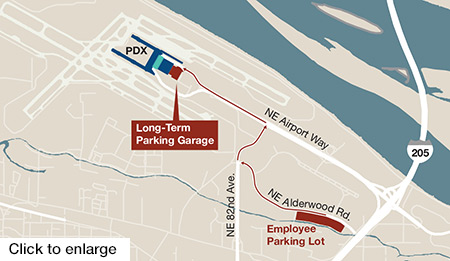 Because fewer people are traveling, we have more capacity in the PDX parking garages. This means we can make a temporary change to where you park to offer you greater convenience and accessibility at no extra cost.
All airport employees who previously parked in the Alderwood Lot should now park in the long-term parking garage. The Alderwood Lot will be closed and shuttle buses will ferry employees between the terminal and the parking lot at a lower frequency until all the cars are removed. We hope this change allows more opportunity for physical distancing and makes your life a little easier in a difficult time.
What businesses are open at PDX?

For the most up to date information on PDX shops, restaurants and services, visit our Travel Safe website and see the question, "What is open and closed at the airport?"
While the PDX Conference Center is closed, the Sandy and Vancouver conference rooms on the mezzanine level are available to PDX tenants and Port staff on a first come, first served basis. If you would like to reserve these rooms, contact
pdxconferencecenter@portofportland.com
.
The Lost & Found office is open with limited hours. Current operating hours are 2 to 8 p.m. on Monday, Thursday and Friday and 10 a.m. to noon on Saturday and Sunday.
Starting in February, operating hours will expand: Monday from 2 to 6 p.m., Tuesday from 3 to 6:30 p.m., Wednesday from 4 to 5:30 p.m., Thursday from 3 to 5:30 p.m., Friday from 1:30 to 6:30 p.m. and Saturday and Sunday from 10 a.m. to 12:30 p.m. Hours may change again in March, so stay tuned for updates.
When the Lost & Found office is closed, calls will be routed to our Call Center, who will work with Airport Operations staff to handle. Both non-essential and essential items are now accepted. All PDX tenants are asked to place any non-essential items in any of the five drop boxes located at the B/C and D/E checkpoints, Concourse C service center, South information booth and outside the Lost & Found Office. People inquiring about items lost or found at PDX should call 503-460-4272 or email
pdxlostandfound@portofportland.com
.
To minimize people congregating in the terminal, the airport meeter-and-greeter areas are closed until further notice. PDX asks that families and friends wait to say 'Welcome Home' at home. Those picking up arriving passengers should remain outside the terminal unless the arriving passenger requires assistance. Our goal is to help avoid crowding and limit proximity to persons not associated with traveling or working at the airport.

Is AtYourGate food delivery still operating at PDX?
Yes, AtYourGate is ready to deliver your meal from select PDX concessionaires during their current operating hours: Monday, Tuesday and Friday from 7 a.m. to 1:30 p.m. and Wednesday and Thursday from 8:15 a.m. to 1:30 p.m. Using AtYourGate delivery also helps to ensure that, rather than spend time in line or in the food court areas, everyone maintains their physical distancing. Be sure to add the coupon for 10% off for PDX employees.
Download the AtYourGate app.
My PDX badge expires soon. Are there any Badging Office changes I should know about?

The PDX Security Badging office is open Monday through Friday, 8 a.m. to 4 p.m. Badging appointments are available every weekday, however they will continue to operate on a reduced training schedule (50% capacity) in order to maintain social distancing and they will not process standby customers.

PDX employees whose badge expires at the end of the month should call the Badging Office at 503.460.4500 or 800.547.8411 ext. 4500 to schedule a training appointment and have their badge renewed. Your badge will deactivate at midnight on the expiration date and may not be used or displayed after that time. Although your badge won't be active beyond the expiration date, all badge holders have 30 days after their badge expires to complete the renewal process without restarting the badge process.


Are there any changes to TriMet service at PDX?
TriMet ridership has dropped due to the coronavirus, and the agency is
temporarily reducing service
. Currently service is suspended for Line 272, the PDX Night Bus, which runs between 1 a.m. and 5 a.m. On weekdays, MAX trains will run every 15 minutes throughout most of the day; weekends will follow Sunday service.
Unrelated to coronavirus, the
Portland Airport station on the MAX Red Line is closed
through Saturday, Feb. 27 during PDX Next construction. During this time, there is a PDX shuttle bus running continuously between the Mt. Hood and Portland Airport stations. Please plan to leave about 10 extra minutes for your commute.
I spotted a PDX employee going above and beyond. How can I get them some special attention?

We love hearing and sharing stories about incredible PDX People, especially during such challenging times. If you know someone who has gone above and beyond, tell us about it by
filling out our submission form
. We may also follow up to request a photo of the person you want to highlight. Another option is to send them a shoutout on social by tagging your post with #PDXPeople. We'll pick a few of the stories to share with our followers and on our
PDX employee website
.
You may also be interested in