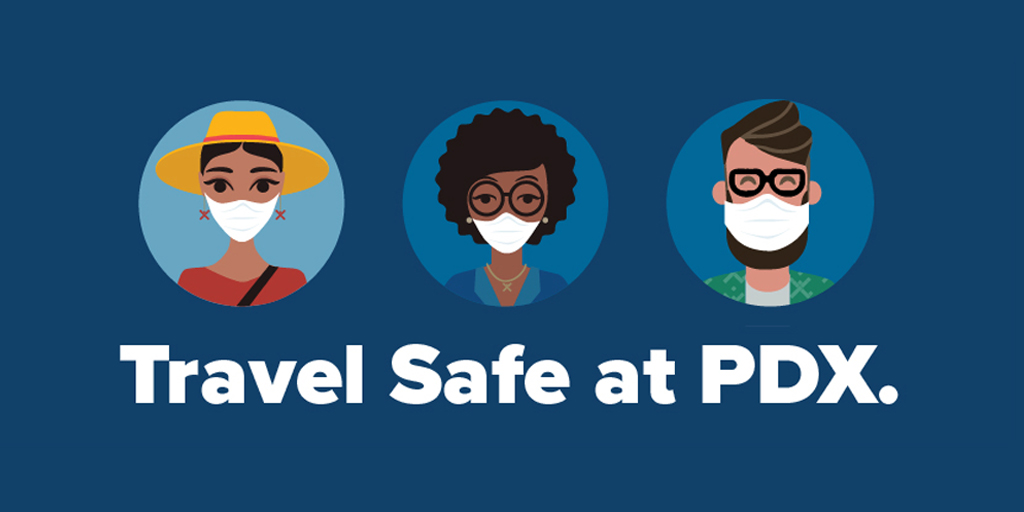 11/19/20
2020 Holiday Travel Focuses on Health Safety at PDX
The health and safety of travelers and employees remains the top priority at Portland International Airport. For those who need to fly over the holidays, airlines and airport businesses continue to support traveling safely.
Here are a few things travelers should know before they arrive at PDX.
New State Travel Advisory
Oregon Governor Kate Brown – in concert with the governors in Washington and California – announced a new travel advisory recommending that anyone arriving in Oregon from other states or countries, including returning Oregon residents, should self-quarantine for 14 days after arrival. This does not apply to essential travel, which includes for work, school and medical reasons.
Maintaining Health and Safety Measures
Travel during the pandemic remains a personal decision; along with airline and federal partners, PDX continues to prioritize traveler safety for those who need to travel.
Rules to address the health of travelers and employees remain in place. Face coverings are required at PDX in the airport and onboard all airlines serving PDX. To minimize congestion inside the terminal, arriving travelers should be met outside the building and can be picked up curbside on either the upper or lower roadways.
Frequent cleaning of high-touch areas continues – like the escalator and moving walkway handrails, food court tables and bathrooms. As well, there are more than 85 hand sanitizer stations located throughout the airport.
The Transportation Safety Administration is also taking measures such as allowing travelers to carry larger bottles of hand sanitizer in their carry-on luggage and allowing travelers to maintain possession of their IDs and boarding documents. For complete information on how TSA is helping keep travelers safe, visit www.tsa.gov/coronavirus.
Before flying, travelers can review tips about what they can do to help make their journey safer and view a complete list of what services, shops and restaurants are open and available at www.flypdx.com/travelsafe.
Holiday Travel Expectations
As November holiday travel approaches, PDX expects to see about a 5% to 7% increase to current travel numbers; even so, travel volumes will be down significantly compared to last year.
Currently, travel volumes are down about 65% compared to November last year. Factoring in the slight uptick in holiday travel forecasted from the Friday before Thanksgiving to the Monday following the holiday, PDX expects to welcome just over 200,000 travelers during this time period. The peak day in that period looks to be Sunday, Nov. 29 with an expected 25,250 travelers that day.
By comparison, in 2019 during the same 10-day November holiday period, PDX welcomed more than a half million travelers; the busiest day saw 56,000 travelers.
Portside
Our digital magazine sharing stories about our Port of Portland team, the people we serve in our region, and our connections across the globe.
Check it out!
Media Relations Team
Our Media Relations Team strives to provide what you need in a timely manner. You can reach our on-call Media Relations representative 24/7 by texting or emailing the address below. During regular business hours feel free to contact the appropriate media relations contact who can assist you with visits and any interview or information requests.
After-hours on-call Public Information Officer: Click for email
You may also be interested in