Troutdale Airport
Master Plan Fact Sheet
Master Plan
Current Status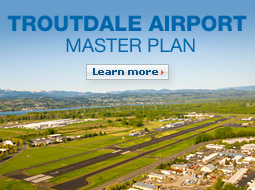 Troutdale Airport: Shaping Our Future was a complete airport master plan process that explored the complex relationship between aviation uses at the Troutdale Airport and the regional aviation system, and the airport's connection to the surrounding industrial land uses. While the master plan followed many of the traditional steps characteristic of an airport master plan, it also explored broader issues important to the Port of Portland, city of Troutdale and greater region.
Before the process began, the Port recognized that Troutdale Airport was a valued community asset on a financially unsustainable path. At the same time, the Port identified a local community need for increased economic opportunities. The master plan process not only addressed the airport resources required to continue serving aviation needs, but also evaluated how Troutdale Airport could sustainably serve local community needs as a whole for the next 20 years.
The Port of Portland invited a group of 23 stakeholders – representing diverse values of economic, environmental and social sustainability – to create a project advisory committee charged with providing input and recommendations for the master plan process. From the spring of 2014 to the spring of 2016, the committee worked with the Port to develop recommendations for the master plan. The committee was given the opportunity to provide input on planning documents and engage in rigorous discussion about Troutdale Airport's role in the future. The committee's recommendations were also informed by community input collected from stakeholder meetings and public involvement activities prior to key project milestones.
Highlights of the committee recommendations include the following:
The Port will continue to manage Troutdale Airport as an important part of the regional and state airport system with phased implementation of the master plan.
The airport runway will be reconstructed to 4,500 feet in length and 56 acres of industrial land will be designed on the north side for development. Aviation facilities will be consolidated on the south side of the airport.
The Port and city of Troutdale will work with other east county interests as appropriate to maintain and enhance the airport's viability as an important part of the regional airport system, and support both the aviation and industrial goals of the community.
Upcoming Meetings
No meetings are scheduled at this time.
Contacts
Chris White, Director, Community Affairs - 503.415.6056
Sean Loughran, Senior Manager, Long Range Planning - 503-415-6067